Friday, May 8, 2009
Posted by

Black
at 3:18 PM
0 comments

Monday, May 4, 2009
I support it. Shout out to Cali and all the people out there doing it. Shout out to Texas too and all the people down there doing it. At the end of the day, life's about having fun (part of it at least) and this looks like fun. People say it's stupid but... I supported Getting Lite, I supported the whole Harlem World thing, so why not...

Here are some videos to help you form your opinion.


Type rest of the post here

Posted by

Black
at 12:25 AM
2 comments

I'm not going to lie... I'm looking forward to Crime Pays. What makes me do that is, Cam goes hard as always. He's no Nas, but he's still skilled (outside of his tooty fruity business). Camron is a rapper that has stayed consistent. Right now, we've got artists going after other genres and other populations, and a whole new generation of rappers coming out that kind of remind us of the whole backpacker movement. Cam keeps is 100% as usual and hasn't changed. Prime example: No Homo. People were going around saying "real men don't need to say no homo" and yet Cam is out there still saying it with no shame in his game. I like that about him and Crime Pays will be a decent album. Plus: Cookies wit some apple juice...

Crime Pays in stores May 12th.


Posted by

Black
at 12:18 AM
0 comments

Sunday, May 3, 2009
New York... We have a problem. As we know, MTA has the largest fleet of trains in the whole world, and it also is operating at the largest deficit. Therefore, fares have increased and service has changed. Aside from what I post here, more information can be found at this link.

The base fare has increased from 2.00 to 2.50. And there are other fee changes for unlimited cards shown in the picture below.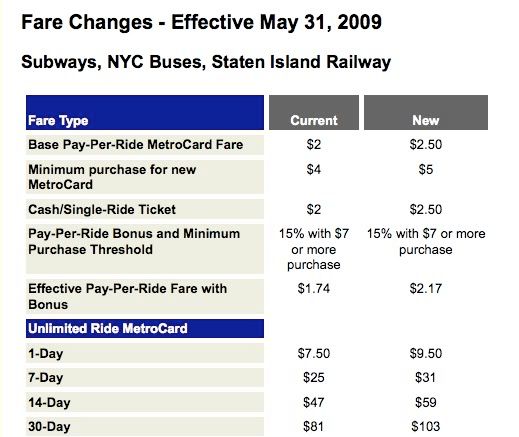 Other Service Changes...

* Terminate G at Court Square at all times - effective late Fall
* Operate N via Manhattan Bridge late nights (includes late-night closure of 4 stations and certain entrances at 3 other stations) - effective July 26
* Eliminate W, extend Q to Astoria weekdays, and operate N local in Manhattan - effective late Fall
* Eliminate M between Broad Street and Bay Parkway, eliminate Z and JZ skip-stop service, and operate J local between Jamaica Center and Myrtle Avenue - effective late Fall
* Operate 10-minute headways on B Division on weekends - effective June 28
* Revise loading guidelines to allow 125% of a seated-load weekday middays and evenings - effective late Fall
* Revise service guidelines to operate 30-minute headways 2 AM to 5 AM - effective late Fall
* Eliminate Staten Island Railway Baseball Special Service - effective June


Type rest of the post here